The Science of 'toys and tricks' to optimise outcomes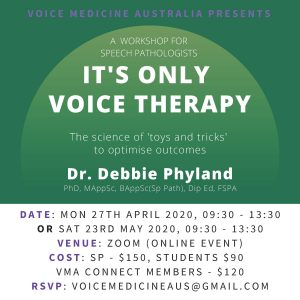 This interactive online workshop led by Dr Debbie Phyland is designed for Speech Pathologists who share an interest or curiosity for the clinical aspects of voice and for those that feel that voice therapy deserves a session of its own.
The focus will be on the clinical application of new findings in science and will be hands-on with opportunities to trouble-shoot and identify areas for further professional development.
An understanding of voice production and assessment is assumed as this session will be primarily devoted to therapy especially to management of muscle tension dysphonia, benign vocal fold lesions and vocal fold paralysis.
Semi-occluded vocal tract exercises, resonant voice therapy, vocal function exercises and accent method are just some of the topics to be covered and be assured that not only the presenters will be using their voices!